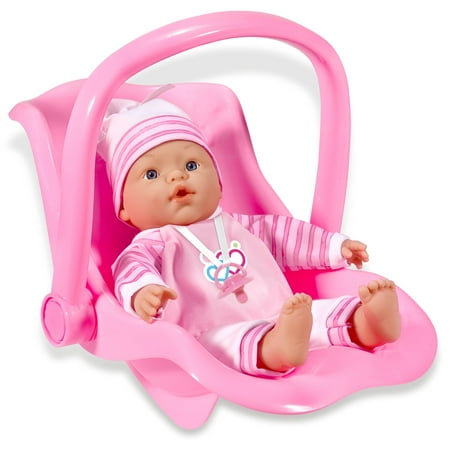 | | |
| --- | --- |
| Brand Name | Loko Toys |
| Model | 98123 |
| Rating | |
| Reviews | No reviews yet |
Introducing this sweet baby doll from Loko Toys. She is 14.6" tall and comes dressed stylish pink outfit. This is a complete playset with a baby car seat and a pacifier necklace. The car seat is pre-assembled. Your child can take this sweet baby with them on rides in the back of mommy or daddy's car. This complete playset comes in a box perfect for wrapping and gifting. All Loko toys are certified with global safety toy standards and certifications. Assembled car seat measures 10.63 x 11.22 x 17.72 inches. Suitable for ages 18 months and up.
This 14.6" sweet baby doll from Loko Toys comes dressed in a stylish outfit and is perfect for your child. The Baby is made of gentle touch Vinyl with a soft weighted body. The doll's features are all handcrafted depicting tiny little toes on the feet and adorable fingers on the hand. The Facial features are all hand painted featuring tiny rosebud lips and Sparkling eyes. The baby's lips and mouth are perfect for feeding and for sucking on her pacifier.This adorable baby doll car seat is perfect for setting up your baby doll in the back seat of the mommy or daddy's car to take anywhere. Assembled car seat measures 10.63 x 11.22 x 17.72 inches.The Loko Sweet Baby Doll is an ideal first Baby-Doll that encourages kids to express affection and care. It has a soft body that's perfect for hugging. Your little ones will learn to role-play nurture, love, and care.Develop your child's imagination with this realistic looking doll and car seat. This incredible doll provides a superior alternative for pretend play. In order to properly develop an imagination, your child needs to physically touch, hold and interact with people. By introducing your child to dolls your child will learn to engage with babies properly to help them develop essential life skills.As if the this little baby doll and car seat weren't enough, the sweet baby doll playset from Loko Toys also includes a pacifier necklace. PRODUCT SAFETY CERTIFIED: Loko toys exceeds all global safety product standards from toys. This baby playset is designed for children ages 18+ months of age.